"ELECTRIC SWAMP"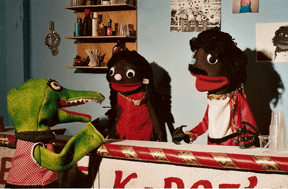 DVD Running time 30 minutes. Written and created by Miss Pussycat. Starring Cinnamon the Alligator, Lolly Crawfish, Ernie & Antoinette K-Doe, and Dr. Bug. Sound and Camera by Quintron, edited by Daryn DeLuco. Copyright Panacea Theriac 2005.
CLICK LINKS BELOW TO VIEW VIDEO CLIPS:
LOLLY'S HOUSE -


DREAM SEQUENCE

PLOT SYNOPSIS
Miss Pussycat's new puppet movie, "The Electric Swamp" is the DVD portion of this joint release. It is the story of how some yucky Formosan termites - portrayed here by a flock of flourescent yellow-headed puppets - are taking over the swamp and destroying everything in sight....not far from the actual truth in New Orleans. Cinnamon the alligator and Lolly crawfish start off to find out just what these termites are up to and how to change their bad behavior in order to save the swamp. As the adventure unfolds we visit a snoball , Lolly's pottery studio, the interior of a termite dance party and even go to a minature "Mother In Law Lounge" where Cinnamon and Lolly get to see an amazing concert by Ernie K-Doe ( in puppet form) ! Not to be mistaken for a mere taping of a live puppet show, this production is a full on mini-movie in the tradition of North Pole Nutrias, with elaborate sets, multiple camera shoots, hundreds of puppets, and a cast of professional puppeteers. Also featured in "Electric Swamp" are Quintron and Miss Pussycat who appear in a dream sequence performing the song, "Dream Captains" ! So here you go...above are 2 short exerpts from this 30 minute mini-movie: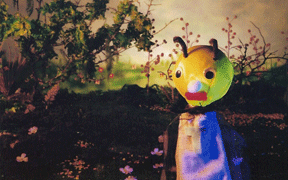 ..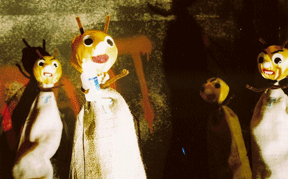 ..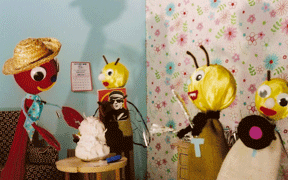 ..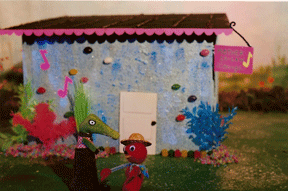 ..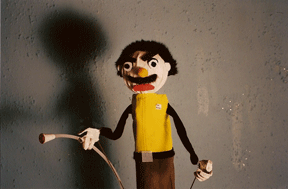 You can order Miss Pussycat's puppet videos and DVDs in our GIFT SHOP .